Wood Floors
Wooden flooring is a hugely popular floor covering well-suited to both domestic and commercial properties. There is a large variation in wood types including;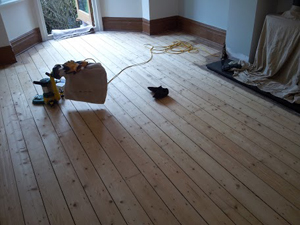 Oak flooring
Walnut flooring
Pine flooring
Maple flooring
Parquet flooring
Wood floors are usually put in areas of the home where there is high foot traffic as it is hard-wearing and relatively low maintenance. However, over time scratches, scuffs and dull areas can appear which are unsightly.
Retail-bought wood floor cleaning products aren't specialized to deal with individual types of wood floors and can oftern leave residue behind. Improper cleaning methods can extentuate dullness and will leave your wood looking lifeless.
1 Stop Floor Care provide a dust free wood floor sanding and refinishing service throughout Lancashire. Our wood stripping process uses the latest state of the art dust free sanders and vacuum systems. This is combined with a range of premium quality, low odour finishes from one of the industry's leading suppliers, Pallmann. All of this enables us to work quickly and efficiently causing minimum disruption to your home or business.
Our skilled operators go through extensive training in all aspects of wood floor sanding, treating and finishing wooden floors.
Wood Floor Information:
Wooden flooring offers great versatility and there is a host of information that will help guide you when considering wood floor restoration. We are well equipped to offer tailored advice in the aim of helping you achieve an informed decision.
Wood floors are timeless and chic and offer functional and aesthetic advantages
Floor sanding is an exhaustive and skilled process; it requires intricacy and appreciation of the detailed knowledge of product formulations, sanding processes and wood types
If a wood finish is not applied the likelihood of deterioration is vastly increased
A wood finish will prevent swelling and cracking and a wood stain product enhances the appearance of wood floors
Drying times depend on a variety of factors including temperature and humidity of the room
Every wood has its own grain providing individuality and uniqueness
Wood floors can be considered a valuable investment as they are incredibly durable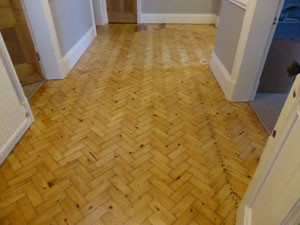 Testimonial:
"From the moment I met Ian from 1st Stop Floorcare I knew we were in the hands of an expert! His knowledge and enthusiasm for restoring our floor was exceptional. He gave a detailed description of how he would be able to renovate our floor and advise on the best techniques to meet our requirements.
The works itself was carried out with minimal disruption and the finish is spectacular. My wife and I were pleased not only with the end result but the fact that nearly zero clear up was required; all we were left with was two bin bags of dust that we had to simply put in the bin. Fantastic!
The floor was ready to use within a day and we had furniture back in by the following evening.
I'd thoroughly recommend Ian and his co-worker Dave for any flooring restoration job. Professional, tidy, competitively priced and both have a good sense of humour! Cheers guys"
James Egersdorff, Bury