Wood Floor Restoration Southport
By On March 20, 2015
Under Oak Flooring, Wood Finishes, Wood Grain
There are clear best practices to completing the provision of wood floor sanding. These carefully and skilfully work to restore wooden floors to their originally-laid lustre.
Wood floors are well-suited to both traditional and contemporary buildings and offer elegance and style. No two are the same so each creates a unique statement.
This was certainly the case with this floor restoration job that we completed in Southport. Our clients wanted to achieve a modern, natural look that was both durable and hard-wearing. White wood finishes on floors, furniture and other surfaces have become incredibly popular in recent times.
On discussion with our client, it was decided that a white wood oil would be the best alternative. This variation is primarily for interior use. It provides an all-round solution that is straight-forward to apply and can be tailored to provide a bespoke wood finish.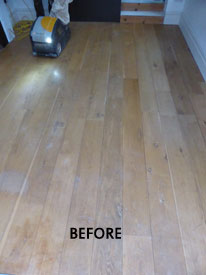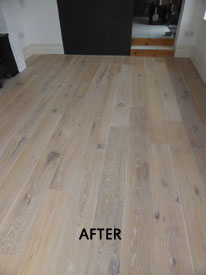 A wood oil is best applied thinly and then worked into the surface grain of the wood boards. Almost all of the product should absorb into the wood and the residual amount should remain on the surface.
It is vital at this point to apply the correct amount of oil so that streaks, unevenness and long drying periods can be avoided.
Once the above process has been completed we then finished the surface with a clear oil to offer better protection against scratches, wear and other possible damage. This stage only went onto boost the appearance and helped the natural wood grain to subtly shine through.
Our client was very impressed with the finish that we achieved and was grateful for our professional approach in supporting the process of finish selection.
If you would like to find out more about wood oils and other wood finishes please call 1 Stop Floor Care on 0800 852 7188 today.