Stain Lacquer Wood Finish Ormskirk
By On August 21, 2014
Under Pine Flooring, Wood Finishes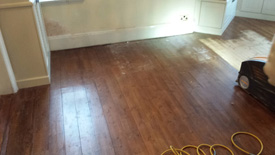 There are many different wood finishes available and the important thing to remember is that there is a reason for different types of finishes. They all have their place and work well in specific applications.
This is where our time-served experience is pivotal to the overall success of our wood floor sanding work.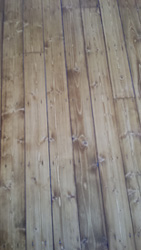 We were approached to restore this wooden flooring in Ormskirk. We spent a lot of time discussing finishes and this allowed us to offer the advice that a stain lacquer would be the most appropriate wood finish for this particular job.
It is undeniable that wood floors are an incredibly attractive and functional flooring choice. The natural grain in wood is intrinsically striking. Floor finishes deteriorate over time and this means that they can start to look unattractive and discoloured. Heat variations and direct sunlight over a long period of time are harmful as the UV rays cause fading and discolouration.
To re-finish a wood floor it is important to restore it with dust free floor sanding. This process strips back the top layer and aged finish and prepares it for the selected new finish. The images show the end result that boasts the best-achievable natural look. Our client was really pleased as their restored floor complimented their newly renovated home.
Pine floors are an ideal choice for many reasons and they suit both modern and traditional settings. They are durable and hard-wearing and ooze character. If you would like 1 Stop Floor Care to sand and restore your pine flooring we invite you to call on 01257 270775 for more information.