Blue Wood Stain Lancashire
By On February 22, 2015
Under Wood Finishes, Wood Grain
Part of providing an exceptional service to our clients is offering advice on wood finishes. A wood finish offers a tailored design to a wood floor restoration project. It is important to find a finish that is well-suited to the intended use of the wood floor and the aesthetic look that any client is looking to achieve.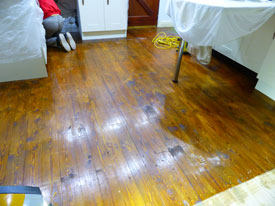 We were invited to fully sand this pine floor in Lancashire. When we arrived at the property the floor had suffered both wear and tear and discolouration through years of use. It was very dark in appearance and aged the look of the room dramatically.
Our clients wanted us to fully sand the wooden floors and then they wanted a blue wood stain to be applied. Wood stain offers a range of benefits which satisfy both aesthetic and practical elements. Wood stains offer a barrier to the surface of wooden flooring and offers resistance against liquid spillages.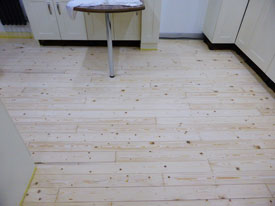 Another incredible benefit of stains is that they offer protection against discolouration from sunlight. This is important when looking for a long-lasting finish for any home or business.
Wood stain is a great way to colour your wood as there are great variations allowing individuality and creative design. Grain and texture shine through the stain, allowing you to obtain a natural feel whilst creating a unique statement.
This was certainly the case for this job as the end result that our clients were looking to achieve was a vibrant blue colour. Exceptional care was taken to ensure a seamlessly finished floor and to protect all surrounding fixtures and fittings. The clean lines between the kitchen and the floor pay testament to the care that was taken.
If you would like to enquire about different wood stains that are available or would like us to complete a survey on your wooden floor please call our helpful staff on 0800 852 7188. We will support the process towards achieving a skilfully restored floor.