Wood Floor Sanding Preston
By On September 30, 2015
Under Parquet Flooring
Samlesbury Hall is quoted to be "A haven for history lovers where the past meets the present" and nothing could be further from the truth in the results that were achieved in the restoration of their beautiful parquet floor.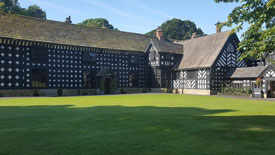 We were invited to fully restore the coffee lounge wood floor in Samlesbury Hall. The requirement was that the process needed to be completed in one day. We worked conscientiously to complete the task as required and the results were truly magnificent.
After the floor was fully sanded with our dustless sanding system it was coated with a quick drying hard wax oil from the Pallmann range of floor coatings. Our expertise allows us the detailed knowledge required in order to select the most appropriate wood finishes for any particular job.
This needs to take into account the expected use, time restraints and condition of the floor. The staff were so pleased with the finish that we achieved;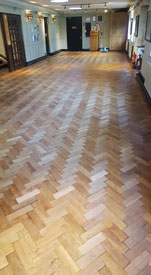 "Brilliant job, we love it thank you!"
The parquet flooring complimented the ethos of the building and allowed visitors to the Hall to appreciate the heritage of the floor, whilst being wowed at the lustrous appearance.
We are fastidious about our approach to the jobs that we complete; this includes the way in which we conduct ourselves, the professional approach that we take and our appearance.
Whist working in both commercial and domestic properties we aim to offer our clients and surrounding people assurance of our professionalism, without exception.
If you would like to enquire about our wood floor sanding services we invite you to call today on 0800 852 7188.
It may be that you're getting organised after the school holidays or that you are anticipating the upcoming festive period. This is a very busy time of year so we look forward to the opportunity of working with you.