Sanding Parquet Floors Accrington
By On March 26, 2016
Under Parquet Flooring
We are always incredibly proud of the calibre of work we are able to gain. This pays testament to our provision and the hard work we put into delivering a second-to-none service in comparison to our competition.
We were invited to restore this beautiful parquet floor in St James Church in Accrington. The process of wood restoration is always a special one and tells a real story; but this job, in particular, provided a real sense of achievement as the results were so well appreciated.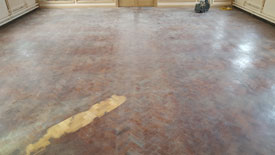 The flooring in the church had been well used and no longer offered the appearance of beautiful parquet flooring. In fact, it looked dark, drab and uninviting. Funding for such work is often challenging so the fact that we were able to complete this job also offers potential clients with the assurance of the cost-effectiveness of our service.
St James Church was undergoing a lot of work and the wood floor restoration played an important role in transforming the space. The dark coating, years of wear and tear, scratches and dents were fully sanding using our dust free sanding system.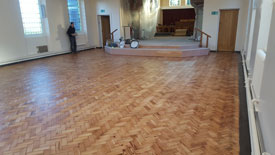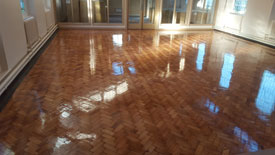 This left the floor ready to be finished. Although the theory and explanation of that process sounds simple and straightforward it does demand a lot of skill and tailoring. The sanding machinery that we use requires knowledge and there are different techniques required in the use of the different machines.
It is important to take your time whilst sanding any wooden floor.  To rush a job would likely result in a less than satisfactory result. The images tell the story of the restoration from the start, through the job and the striking result achieved on completion.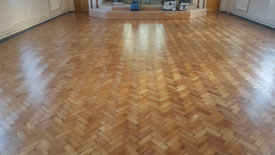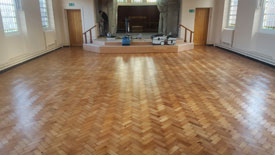 The wooden flooring looked like new but at the same time respected the age and heritage of it through skilled restoration. If you would like to find out more about how to sand wood floors please call our helpful staff on 0800 852 7188.