Sanding Parquet Flooring Lancashire
By On October 23, 2015
Under Parquet Flooring
Have you ever looked down at your parquet floor and thought that it was time to replace the dirty and tired boards? Are they past their best with ingrained dirt and worn surface?
STOP! We offer a cost-effective alternative to full replacement of your once-beautiful wood floors. If our clients have purchased a property with wood flooring; they are often not aware of the type of wood that they have. There is a huge range of floor sanding services that are completely tailored to suit your individual wood floor.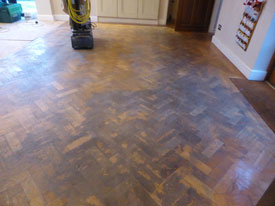 We were invited to survey this oak parquet floor in Lancashire. It was in a terrible state and did look, to the owners, past redemption. On discussion about our services it was identified that we would be able to fully restore this beautiful floor to a like-new finish.
Our clients felt that their floor darkened the space with the way that it looked as well as being uninviting and unsightly. They wanted a more natural wood finish to bring out the natural grain pattern of the wood boards.
On completion of the work our clients were genuinely shocked at the floor that laid beneath many years of wear and dirt. They never expected the grain pattern to look as it did and were over the moon with the way that it brightened up the space.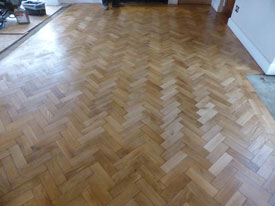 We are experienced floor sanders who are able to best restore wood floors with our skill and expertise.
We have been overwhelmed with the demand for our services. This pays testament to the way in which we approach our wood restoration work.
Whilst we aim to offer a competitive price we also look to provide a service that we feel confident is second-to-none. This is accompanied by customer service that ensures our clients feel assured throughout the sanding process and beyond.
We would welcome the opportunity to provide you with a quotation; we will discuss the process, the products we use and the way in which we complete the job. We will provide you with information of wood finishes and expected outcomes. Call today on 0800 852 7188.