Oak Floor Restoration Preston
By On September 28, 2015
Under Oak Flooring
These images show an oak floor that we sanded and oiled with a white hard wax oil. This combination of products is set to make sure that the wood floor remains looking at its best for as long as possible.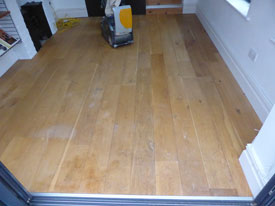 Durability of wood flooring is often paramount to our clients and they want to know that as well as looking good that their floors will be long-lasting. This is part of our service, offered without exception.
Our experience has led us to be specialists in our trade; knowledge is power and we re-iterate the importance of familiarity with the intricacies of wood in order to produce a superior wood finish.
We enjoy taking the time to discuss our tailored process and trade-specialist products with our clients and have therefore devised some quick tips about using hard wax oil.
Make sure to agitate and mix the oil as per the manufacturer's instructions prior to applying any was oil to your wood boards.
Make sure to regularly re-fill your brush to make sure that once you have started to ensure that the boards are evenly and properly coated.
Wood finishes will dry quicker in a warmer environment.
Ensure to leave your wood floor with an adequate time to fully dry.
Different hard Wax oils offered varying finishes; some may offer a change in colour while others may not.
It is really important to achieve a smooth and even finish.
Some feel as though a white-washed wood floor may age but it is evident from these images that they offered a timeless beauty that is both incredibly attractive, functional and durable.
We invite you to call today on 0800 852 7188.