Oak Floor Restoration Lytham St Annes
By On February 29, 2016
Under Oak Flooring
When we visited this home to quote for a full wood floor restoration it was evident that the flooring was in a deteriorated state. The finish looked uneven and there were large scratches where furniture had been moved.
Our client commented on how it was a distraction and left the room feeling lifeless and lack-lustred. Our client stated that they wanted to breathe new life into the floor as they could imagine what a transformation could offer.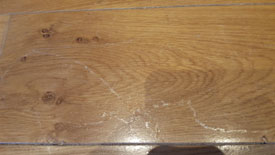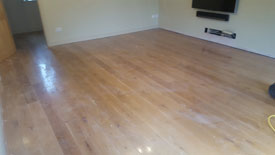 We discussed in detail about floor finishes and it was decided that a wood lacquer would be the best option. Lacquer is well-known for its ability to withstand heavy use and this is backed by its popularity as a product for wood floor restoration.
The science behind wood floor lacquer is quite complex; its modern blend is available in a range of applications including faster-drying or slower-drying alternatives.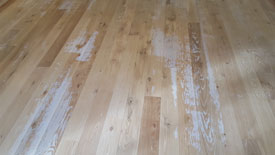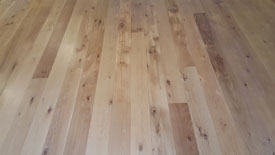 Wood Floor Lacquer Information:
A lacquer does not alter the colouration of your wood floor
A lacquer will intensify the grain pattern of your floor
Once applied and dried, the finish is scratch-resistant and hard-wearing
Its application demands experience for an even finish
Floor lacquers are suitable for both domestic and commercial properties
The oak flooring was fully sanded; we have invested in state-of-the-art sanding machinery to ensure that the sanding process is fast, efficient and offers a seamless surface, ready for finishing. The wood grain was clearly visible and this part of the process gives an insight into how the floor will look when completed.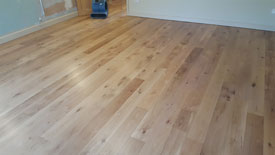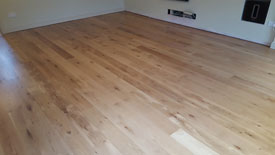 We then applied a lacquer which transformed the room. We offer advice on how long to leave the room before walking on the surface, replacing furniture and other elements that ensure the flooring is given optimum time to thoroughly dry. Our clients were ecstatic with the results.
We are highly-experienced floor sanders and we work throughout Lancashire and the surrounding areas. Our services are friendly, professional and cost-effective. If you would like to request a quotation please call today on 0800 852 7188.