Wood Floor Facts Lancashire
By On January 29, 2015
Under Floor Sanding, Oak Flooring, Wood Finishes
These images show an oak floor that we restored in Burnley. The first image shows the discoloured state of the floor when we arrived. The second image shows the floor sanded back to its natural state and the third image shows the beautiful grain that was revealed with the finish that was applied.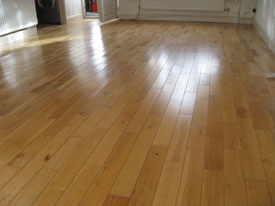 Our client felt as though we had left them with a lot of information that benefited them so we thought it appropriate to select some detail that may help you.
What is a wood finish?
Wood finishes are laid as a top coat that offers protection from wear and tear. A finish is a way to offer an individual touch to your wood floor restoration project. There is a huge variety of finishes available and it is part of our superior service to offer information and advice that allows the creation of the best result.
Why are wood finishes applied?
There are two main reasons as to why a wood finish is applied to any wood floor; these include protection from wear, damage and moisture and to enhance the natural beauty and colour of the floor.
What benefits do wood floors offer?
A wooden floor is timeless in its appeal. Wood floors offer an alternative that is warmer underfoot that a stone floor and have a reputation steeped in history. As they are a natural product, every floor offers a unique look and textures that improves with age. It is also a flooring alternative that is well-suited to under floor heating systems.
Do wood floors expand and contract?
It is a well-accepted fact that some types of wood react more than others. A solid wood floor will be more reactive to temperature and humidity changes than their engineered wood counterparts. A wood floor will expand and contract with the changing seasons and this is completely normal. If it appears that your floor is experiencing changes out of the range to which is acceptable it may be that you require further advice as to whether there is a moisture problem that may need further investigation.
Wood Floor Quick Tips:
– Do not wet mop your wooden floor
– Put felt pads under any furniture to prevent damage
– Follow recommended advice with regards to routine maintenance and cleaning
– If your wood floors are damaged; don't panic. We offer comprehensive services to repair and restore wood floors.
If you would like more information about restoring wood floors please feel free to contact us on 01257 270775.