Why Wood Floors?
By On July 31, 2016
Under Floor Sanding
There are a range of reasons as to why an individual would select to fit wooden flooring in their home.
Wood Floors:
Look great
Are softer underfoot
Have a huge range of different types to suit your décor
Are warmer underfoot than some other flooring types
Can be fully sanded and restored
Can age well
Can last a lifetime
When discussing different types of wood, it becomes clear that vast and in-depth knowledge is required. Too frequently are we faced with jobs that have either been attempted by a DIY disaster or by an individual that isn't equipped with the necessary skills.
We are all looking for value and professional floor sanding offers just that. The process is completed quickly and efficiently and to a far superior finish than that achieved if you were to try it yourself. Why is this?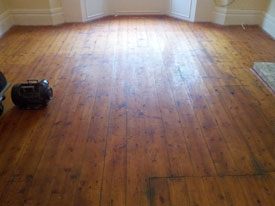 It starts with the fact that you improve with experience; this takes into account the use of our industrial machinery. Not only does this take time to learn how to use it, but it may require different applications on different floors. We have this knowledge.
No longer are individuals faced with tremendous bills for this service; our pricing is competitive. Our pricing plan reflects our open and honest approach and we are happy to discuss this with you.
Wood flooring can really create a statement in any space whether small or large. It will always be the focus of a room and other decorative elements simply compliment it.
We are genuinely passionate about restoring wood floors and delivering a first-class service. We are confident that we are the best-equipped professionals to complete your floor sanding project and ask for you to call today on 0800 852 7188.