Sanding Pine Preston
By On November 27, 2014
Under Floor Sanding, Pine Flooring, Wood Finishes
Pine wood has a variety of uses and one of the most popular of these is pine flooring. It is a high-quality alternative characterised by its fine, straight and even grain pattern. Any knots in pine are tight and small which gives it a rustic wood finish.
As a wood floor it is durable and attractive in its appearance. When stripped back it is pale in colour, easy to cut and shape, and machines relatively well. This means that any pine restoration project can provide brilliant results.
We were approached to fully restore this pine floor in Preston. The finish of the floor, when we arrived, had lost its original lustre. It had become sun damaged over time and the discolouration left it looking unattractive and unappealing.
Rather than sanding the floor, the previous owner had then covered the wooden floor with carpet. The new owner moved into this house and during a larger restoration project revealed the wooden floor boards.
This client was particularly interested in the sanding process and what was involved. They had a real appreciation of the demanding process required. They knew the look that the wanted to achieve but they were not aware of the wood finishes that would provide that result.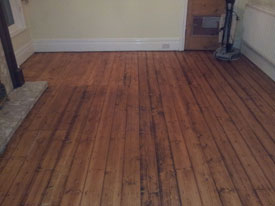 The images show the end product that was achieved through this pine restoration project. The floor was almost unrecognisable and the new finish showed the natural grain and beauty.
Something that really makes wood floors popular is their ability to be unique and individual. They confidently compliment the look of any room and exude quality.
If you are contemplating restoring pine floors in your home please contact us on 01257 270775. Our friendly staff work to assist you through the process so that you are offered instant assurance that you are dealing with a company that will work to exceed your expectations.