Sanding Oak Chorley
By On February 13, 2014
Under Floor Sanding, Oak Flooring
Oak flooring is luxurious and opulent and as well as being functional and practical, oak floors are hugely popular. Aged and damaged flooring can look unsightly; our experience has meant that we are well-equipped to deal with the individual requirements of different floors.
We were invited to restore this oak floor on the ground floor of this house. It had been lacquered several years ago and this had begun to wear through in several areas. This resulted in an orange appearance of the floor boards that the owner was very unhappy with.
The wood floor was fully sanded with our dust free floor sanding machinery. This is top-spec equipment that allows us to offer superior sanding results as we are able to monitor the work as we do it, whilst providing a virtually dust free sanding service.
The oak boards were then sealed with a lightly coloured hard wax oil which works to enhance the natural grain of the wood. The images tell the story of the oak restoration transformation from start to finish.
Sanding wood floors takes an in-depth understanding; we offer comprehensive services at competitive prices and never falter on making sure that each and every client feels as though they have dealt with time-served professionals and are left feeling confident they employed the best-possible specialists.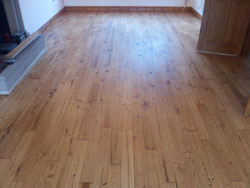 We offer an all-round service and leave you equipped with information on routine cleaning.
If you have any questions about sanding wooden floors we invite you to call Ian on 01257 270775.
Oak restoration is a truly remarkable process and the images on this post show the natural beauty of real wood flooring.
We look forward to the opportunity of working with you.