Restoring Pine Floors Preston
By On April 26, 2014
Under Floor Sanding, Pine Flooring, Wood Finishes
Pine flooring is considered a soft wood, however, this does not mean that it is not a durable flooring choice that if looked after correctly, can last a lifetime. It is a relatively low-cost type of wood and can be successfully restored.
An advantage of a pine floor is that it is sometimes found as a subfloor in older properties. We were requested to provide a quotation for complete restoration of this pine flooring in Preston. We discussed our dust free floor sanding system and explained the repairs that we could complete to the damaged boards.
The areas of this home to be restored were extensive. It was important that we used our valued experience to make sure that the job was completed to the best possible result achievable. This client wanted to achieve a dark, natural tone to the wood floor so we discussed the application of a black hard wax oil.
This is a fascinating element of our work as individual tastes differ so much. It was also a great job to show case due to the immense improvement we were able to achieve. The wooden floor looked, to the untrained eye, that it was past its best and would likely need replacing. The images of the floor restoration process show the complete transformation.
The end result of this job was a stunning and elegant-looking pine floor. The natural wood grain was clearly visible and the client was left feeling assured that their floor was well-protected and long-lasting.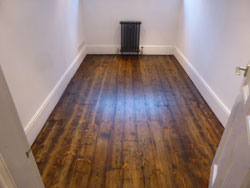 We do all we can to make sure that each and every client that enquires with 1 Stop Floor Care has the best possible level of experience. We approach every aspect of our business with respect and work hard to go the extra mile.
If you have an aged pine floor that you would like to have respectfully restored please call Ian on 01257 270775.