Restoring Oak Flooring Ormskirk
By On October 15, 2014
Under Floor Sanding, Oak Flooring
We were invited to fully sand, restore and re-seal this oak flooring in Ormskirk. There were a number of rooms in this property that required our attention and benefited hugely from our floor sanding and restoration provisions.
It is often not until after the job has been completed that you can appreciate the worn state that they had once been in. A newly restored wood floor just oozes sophistication and with a huge variety of wood finishes; you are able to achieve a unique and tailored look for your home.
1 Stop Floor Care's, Floor Sanding Values: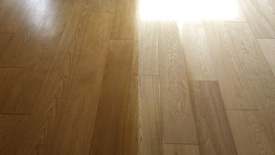 Quality Workmanship – our experience in the field of wood floor sanding and comprehensive training ensures that we are best-equipped to deal with the individual requirements of each job. Our approach is relaxed and focused so that we provide our clients with assurance and comfort that we are approachable and helpful.
Trust – this forms the very basis of our company ethos. We pride ourselves on our high standards, coupled with our aim to build a relationship that you feel confident that can be called upon at any time in the future.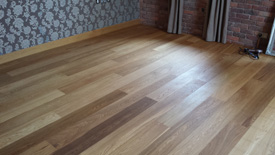 Creativity – it is likely that during the consultation process that we will be able to offer information and advice that will assist the process of achieving a superior result. Whether this is the type of wood finish used, our approach to the job or part of the aftercare service that we offer as standard; we make sure that you are left well-informed.
Reliability – we are in the fortunate position to love what we do and that we have a talent for it. We make sure that we follow up on enquiries promptly and are reliable in our approach to appointments and work schedules. This further works to offer a service that is zero hassle to our clients.
If you would like to find out more about how best to restore oak floors please call 1 Stop Floor Care on 01257 270775.