Parquet Wood Floor Restoration Bury
By On December 28, 2016
Under Floor Sanding
Services to restore Parquet floors are comprehensive. This treasured flooring type is often beautifully cared for and it is just the test of time that offers a deteriorating factor. Our services cover every aspect of wood floor restoration;
Services to ensure that the floor underneath is well-prepared for new blocks to be attached to
Replacement of damaged parquet blocks
Filling of any gaps between the boards
Full sanding of the entire wooden floor using our dust free sanding system
Refinishing of the floor using the application of only the best-available products
This service includes aftercare and advice on how to make sure your restored floor remains looking great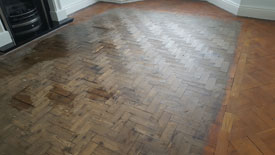 We have extensive experience with restoring parquet flooring. There are many reasons why our clients enquire about our services and some of these include;
Missing blocks;
This can occur if there has been previous work completed such as electrical or plumbing work. Another example of where there may be missing blocks is where properties have completed house adaptations. Removal of fire hearths or moving of walls can leave expanses of the floor without blocks. Replacing missing blocks needs to be handled skilfully to ensure the best match possible.
Raised or sunken boards;
The stem of this problem is likely to be an issue with the floor underneath. It may have eroded due to age or possible water damage. Successful restoration of this will demand a full investigation of the issue. The sections of floor that are affected need to be removed and replaced so that a level finish can be achieved.
Gaps between blocks;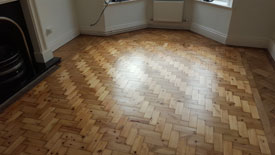 This happens with natural moisture fluctuations and heating. Modern heating systems offer challenges to Parquet floors. The individual boards expand and contract with the changes.
These gaps can range in size and so need an appropriate plan in order to ensure they are filled in the correct way.
A wood floor that is challenging to maintain;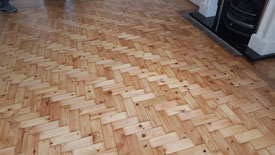 If your wooden floor is difficult to clean it is likely that its finish has deteriorated. A lack of protection or an inappropriate selection of wood finish will inevitably mean that the floor is difficult to maintain.
In this case the surface coatings need to be removed and another, more appropriate finish applied.
We would very much appreciate the opportunity to provide you with a quotation for restoring your Parquet floors. We offer exceptional services for both domestic and commercial floor restoration; please call today on 0800 852 7188.