Oak Restoration St Helens
By On April 25, 2015
Under Floor Sanding, Oak Flooring
The following images show an oak floor restoration project that we completed in St Helens. The home owners were tired of the dull-looking wooden floor. They had been using a steam cleaner to clean their floor but felt as though this was making it duller.
The first two images show the how the floor looked before and during sanding. The third image shows some different wood finishes that we showed to our client. This proves to be a valuable element of our wood restoration service as it allows our clients to see exactly what the floor will look like when completely finished.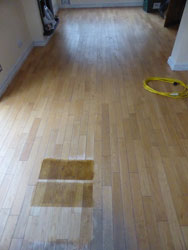 When talking to our clients we identified that people often find it challenging to select the best wood finish as when they view finishes online or in a store they can look different to when it is in their home setting.
It is understood that seeing the test patch in your actual lighting (both artificial and natural), with your wall colours and even soft furnishings can offer you assurance when selecting the best-suited finish.
The entire oak wood floor was fully sanded with our revolutionary dust free floor sanding process. This exciting new service provides an exceptionally even finish and offers a virtually dust free provision.
The seamlessly sanded wooden floor was then stained with a tailored wood stain. We only use best-available wood products which have been carefully selected through use and experience. Once the stain had fully dried a wood lacquer was then applied to achieve the final appearance.
The home owner felt as though we created a much more sophisticated look for their wooden flooring. It renewed their enthusiasm for their oak floor and they especially liked the fact that the process has brought out the natural grain pattern of the wood.
You can enquire about our oak restoration services by calling 0800 852 7188 today.