Commercial Floor Sanding Lancashire
By On October 25, 2013
Under Commercial Floor Sanding
We are specialist floor sanding specialists based in Chorley, Lancashire. We have built up a positive local reputation and have had the benefit of customer references and recommendations. This means that our services are sometimes requested further afield.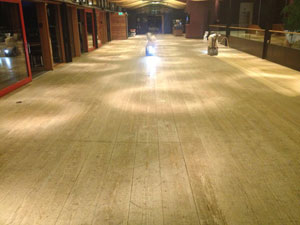 We were invited to be part of a large flooring restoration project in The Royal Botanic Garden in Edinburgh. Vast expanses of wooden flooring have huge impact and are both attractive and require relative low maintenance and upkeep with the right advice.
Floor restoration requires specialist machinery, products and in-depth knowledge of the correct process. This combined with an appreciation and understanding of how commercial floor sanding differs in requirements from that of a domestic job is imperative.
The first part of the process involved the use of an industrial belt sander which striped down the wood floor. Varying levels of grits were then used in order to remove scratches, stains and old treatments, left on the boards.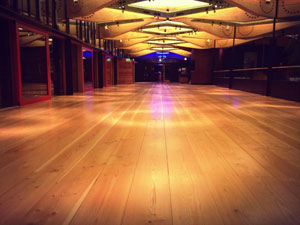 Edging sanders were then used by hand to achieve a seamlessly consistent finish. Once this process had been accomplished, wood repairs were completed which involved filling gaps and cracks in individual boards.
A buffing sander was then used to achieve a smooth surface ready for the finishing process. An application of oil, wax or lacquer can then offer the brilliant result that you can see in this picture. This is an incredibly important part of the process and we will take time to discuss your options with you; this will ensure you achieve the right look.
If you would like more information on our floor sanding services please call on 01257 270775. We will be happy to offer information and advice on the floor sanding process and what restoration results can be achieved.
We look forward to the opportunity and challenge of restoring your wood floors. Below are more images of the stunning restoration work we completed.