Commercial Floor Sanding at Samlesbury Hall
By On October 26, 2016
Under Commercial Floor Sanding
Attaining such high quality floor sanding work is such an honour for 1 Stop Floor Care. We have received a well-respected accolade for completing exceptional restoration work for wood floors.
What Can Professional Floor Sanders Offer?
As well as being flexible around existing business commitments, we are able to offer a fast and efficient service. Our aim is to offer an outstanding transformation whilst ensuring absolute minimal disruption. Down time for any business means a loss of earnings.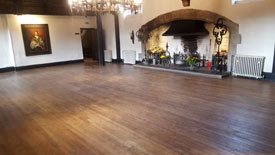 This is often the reason why many businesses leave any floor restoration work for longer than necessary. It is thought that the loss of earnings is not worth the difference in the appearance of the wood floor. This is a skewed view because…
The appearance of your floors to visitors is important; if they are scratched and unattractive then it will provide a negative impression. This will be long-lasting. On the other hand, if a visitor enters your property and is faced with crisp, clean floors their association will be positive.
We were invited to restore this beautiful and historic wooden floor in Samlesbury Hall. Samlesbury Hall is a beautiful stately home in Preston, Lancashire. It was part of a larger project and provided an exemplary opportunity for us to showcase our skilled workmanship.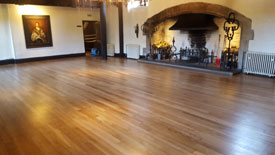 The floor was fully sanded, stripping back the old coatings and surface layer. Our machinery is fast-working and effective. We have invested in the best-available machinery so that we can speed up the sanding work that we complete whilst offering a superior finish.
We are expert commercial floor sanders serving Lancashire and further afield. The results at Samlesbury Hall were incredible and the room was brightened up and would offer a positive impression to future visitors. Have you got a commercial wood floor that you would like us to survey? Call 0800 852 7188 today.