Archive for the 'Wood Grain' Category
By On March 20, 2015
No Comments
There are clear best practices to completing the provision of wood floor sanding. These carefully and skilfully work to restore wooden floors to their originally-laid lustre.
Wood floors are well-suited to both traditional and contemporary buildings and offer elegance and style. No two are the same so each creates a unique statement.
This was certainly the case with this floor restoration job that we completed in Southport. Our clients wanted to achieve a modern, natural look that was both durable and hard-wearing. White wood finishes on floors, furniture and other surfaces have become incredibly popular in recent times.
On discussion with our client, it was decided that a white wood oil would be the best alternative. This variation is primarily for interior use. It provides an all-round solution that is straight-forward to apply and can be tailored to provide a bespoke wood finish.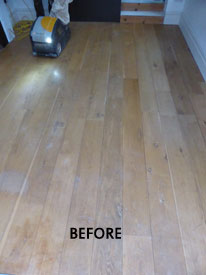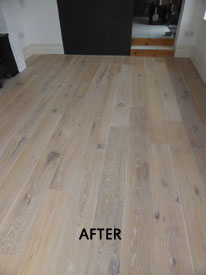 A wood oil is best applied thinly and then worked into the surface grain of the wood boards. Almost all of the product should absorb into the wood and the residual amount should remain on the surface.
It is vital at this point to apply the correct amount of oil so that streaks, unevenness and long drying periods can be avoided.
Once the above process has been completed we then finished the surface with a clear oil to offer better protection against scratches, wear and other possible damage. This stage only went onto boost the appearance and helped the natural wood grain to subtly shine through.
Our client was very impressed with the finish that we achieved and was grateful for our professional approach in supporting the process of finish selection.
If you would like to find out more about wood oils and other wood finishes please call 1 Stop Floor Care on 0800 852 7188 today.
By On February 22, 2015
No Comments
Part of providing an exceptional service to our clients is offering advice on wood finishes. A wood finish offers a tailored design to a wood floor restoration project. It is important to find a finish that is well-suited to the intended use of the wood floor and the aesthetic look that any client is looking to achieve.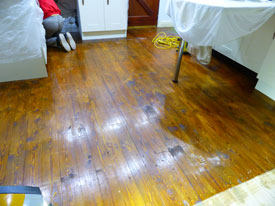 We were invited to fully sand this pine floor in Lancashire. When we arrived at the property the floor had suffered both wear and tear and discolouration through years of use. It was very dark in appearance and aged the look of the room dramatically.
Our clients wanted us to fully sand the wooden floors and then they wanted a blue wood stain to be applied. Wood stain offers a range of benefits which satisfy both aesthetic and practical elements. Wood stains offer a barrier to the surface of wooden flooring and offers resistance against liquid spillages.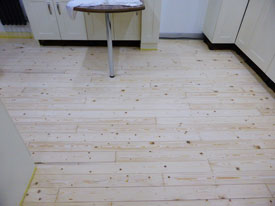 Another incredible benefit of stains is that they offer protection against discolouration from sunlight. This is important when looking for a long-lasting finish for any home or business.
Wood stain is a great way to colour your wood as there are great variations allowing individuality and creative design. Grain and texture shine through the stain, allowing you to obtain a natural feel whilst creating a unique statement.
This was certainly the case for this job as the end result that our clients were looking to achieve was a vibrant blue colour. Exceptional care was taken to ensure a seamlessly finished floor and to protect all surrounding fixtures and fittings. The clean lines between the kitchen and the floor pay testament to the care that was taken.
If you would like to enquire about different wood stains that are available or would like us to complete a survey on your wooden floor please call our helpful staff on 0800 852 7188. We will support the process towards achieving a skilfully restored floor.
By On May 15, 2014
No Comments
Walnut floors are a really popular hard wood flooring; this can sometimes be attributed to their rich dark brown colouration. Walnut floors add a lot of character to a room and are tough under foot. It will naturally become a focal point for the room, grabbing the attention of anyone visiting your home.
It is important, however, that your walnut floor is grabbing the attention for all the right reasons as a skilfully restored floor will exude luxury and warmth. Unfortunately the same cannot be said for a tired and worn-looking floor.
We were invited to clean and restore this walnut flooring in Chorley. The clients were fascinated by the wood grain and wanted to have it restored to bring out the grain again as it had started to be hidden behind the lifeless look of the wood floor.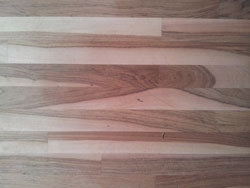 We fully discussed our services and spoke in detail about what finishes would really maximise and show off the natural wood grains. We used our dust free floor sanding system to fully sand the flooring. This image shows the natural state of the wood boards, showing again the true beauty of walnut.
We then applied a finish that would purely and simply work to show off this but would, however, offer an incredibly hard-wearing and long-lasting finish. Regular cleaning of walnut floors is always advised to keep on top of maintenance. The most important part of this is to use the correct cleaning products and techniques.
It is important for us to leave our clients feeling as though they have achieved value for money both in the service that we have offered them and the finish that we have achieved for their wooden flooring. This ethos is how we have built up our reputation and we are currently experiencing increased demand for our services further afield because of this.
If you have any questions about walnut floors please contact us on 01257 270775. We will make sure to answer your enquiry quickly and look forward to the opportunity of working with you. We hope you agree that the floor sanding process offered an incredible transformation!