Archive for the 'Maple Flooring' Category
By On January 19, 2014
No Comments
1 Stop Floorcare have had the incredible opportunity to sand wooden floors and offer floorcare services throughout the UK and it has enabled us to build up our well-earned reputation throughout the areas that we serve.
Having the website allows us to showcase the opportunities that we have and we are proud to offer information and advice, alongside images that provide evidence of the incredible transformations that we achieve.
It is inevitable that each job that we take on will vary greatly; this may be in the degradation of the floors, stains, level of scratching or restoration that is required. But the one thing that is certain is that our approach to the job is the same every time; we use our vast experience, knowledge of the trade, state-of-the-art machinery and trade-recognised products to produce unrivalled wood restoration results.
We were asked to completely restore and seal 150m2 of reclaimed maple flooring in Buckley Theatre School in Wigan. It was a great job to start the New Year with and we photographed the progress of the work from start to finish.
The wooden floor was originally taken from Lancaster University and the Theatre School had the opportunity of relaying it; a cost-effective and respectful restoration in introducing historic and carefully crafted wooden floor boards to their studio.
We discussed the process of floor sanding with our clients and we were careful to reduce disruption to the school. Our professional approach was duly noted and the job was completed from start to finish in 2 ½ days.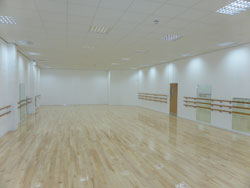 We also wanted to make sure that we provided an incredibly hard-wearing and long-lasting finish so it was advised that the wood floor should be finished with a very hard-wearing two pack commercial floor lacquer. This finish would not only make sure the floor remained looking like-new but it would stand up to the usage within the studio.
The maple floor, when restored, completely altered the look of the studio and it projected the right image of the Theatre School. If you would like to discuss dust free wood floor sanding services please call 01257 270775 for more information. We are well-equipped to deal with all sizes of wood floor restoration work and invite you to enquire via our website or by calling today.