Archive for the 'Mahogany Flooring' Category
By On December 9, 2013
No Comments
We were invited to restore this mahogany flooring in Garstang. The original wood floor was very dark and the owner wanted to lighten up the room to bring a warmer feel to their downstairs.
Mahogany is a beautiful wood and is known for its deep colouration, high quality and durability. It is a very popular wood flooring choice and offers versatility; it has an elegant and stylish finish and this is mixed with the fact that it is a practical flooring solution.
This mahogany floor was fully sanded down with our industrial, dust free floor sanding equipment. It was then fully sealed with a hard wax oil. This finish was chosen after spending time with the homeowner discussing what look they wanted to achieve after the restoration process.
Our client was incredibly pleased with our work; it is through positive feedback and client testimonials that we are able to confidently state that we offer the best level of floor sanding services throughout Lancashire and the surrounding areas.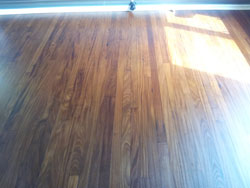 "I would like to say how pleased I was with your level of service both before the work started and especially during the operation. I was impressed with the quality and efficiency of your work and your very pleasant manner. Thank you for the follow up email and I will order some of the recommended maintenance product. I will definitely recommend you to any interested family or friends. Overall a very satisfactory outcome to the whole project, thank you once again for our new floor!"
Michael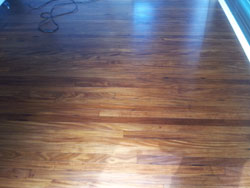 If you have any questions or would like to discuss mahogany restoration with us, we invite you to call us on 01257 270775.
We will go the extra mile to make sure that you are pleased with the finishes we achieve and are always available to discuss regular maintenance of your wood floor.
Our experience in the trade has meant that we are able to offer valuable information to our clients to make sure their floors are kept looking their best for as long as possible.